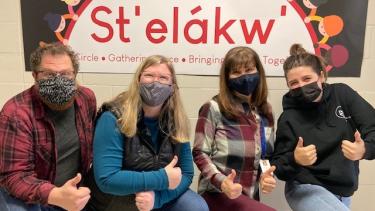 In the past, the Indigenous Program has supported First Nations, Metis, and Inuit students through a variety of fun, engaging, and memorable field trips, activities, and school events. This year will be no exception! Although our programming may look a little bit different, we are still here to support students and their families holistically. 
Here are some of the things that we have planned for this year…
Hawk Cousins
Art Club
In-Class Culture Presentations
Traditional Recipes
Truth and Reconciliation Commission: Calls to Action Presentation
National Aboriginal Veterans Day Assembly
Drum Making
Louis Riel Day Celebration / Rock Your Mocs!
Medicine Walks 
Sema:th Xo:tsa Book Launch Activities & Class Discussions
Academic / Social Emotional Learning Support
Healthy Living Boys Group
Healthy Living Girls Group
ISPARC Run/Walking Club
Respecting Tobacco Presentation
St'elakw Room Amenities - New COVID19 Protocols!
Language Celebration
WJ Mouat Transitions for Indigenous Students
Indigenous Resilience Awards Ceremony
Lacrosse
National Indigenous Day Celebrations
7 Teachings Club
And much more!
If you have any comments, questions, or suggestions, please contact Ms. Knox.