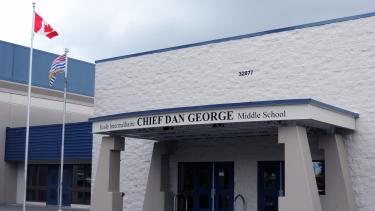 Our School
Home of the Wolves
Welcome to Chief Dan George Middle School!
Mission Statement
Our school community strives to create an environment where all learners achieve their academic potential, develop respectful social relationships and celebrate our cultural diversity. 
History of Chief Dan George School
Our school is named after Chief Dan George, a famous Canadian First Nations spokesperson and actor.
Since opening its doors in 1985, Chief Dan George School has continued to evolve. Initially Chief Dan George was an Elementary School with a population of approximately 250 students. At one point, the school's population grew to 650 students and seven portables were placed on the grounds. In 1999 Chief Dan George Elementary School became a Fine Arts School. After an addition and extensive renovations, Chief Dan George Middle School opened its doors in 2001. Our initial school population was 545 students. Currently we have 605 students enrolled and there are 32 teaching and 23 non-teaching staff members. Chief Dan George Middle School houses Early French, Late French, English and Special Needs students in grades 6, 7, 8.