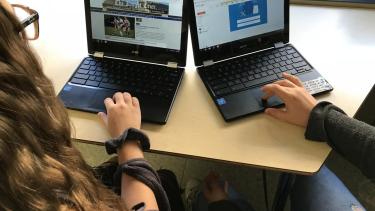 BYOL Program
Bring Your Own Laptop to CDG
Bring Your Own Laptop (BYOL) Program
We are proud that Chief Dan George Middle offers a school wide Bring Your Own Laptop (BYOL) program. This program provides students the opportunity, at the teacher's discretion, and with parent support, to use personal laptop computers under supervision in the classroom for learning. We believe that the use of digital technologies to improve student learning is a key part in being an innovative school that prepares students for lifelong learning.
Thank you for working with us to support the Bring Your Own Laptop program.
Bring Your Own Laptop Benefits
improved access to online resources and digital tools

enhanced opportunities to learn appropriate digital communication and citizenship skills

additional opportunities to create digital projects

access to assistive technology

ability to collaborate during class time on digital presentations and documents
Device Information and Requirements
In order to participate in this project, students are asked to bring a basic laptop to school that meets the following minimum requirements:
8 GB RAM

256 GB SSD Memory (128 GB SSD would work as well) 

An Intel N200 or i3 processor or AMD equivalent
Additional considerations include:
A charging power cord and battery that is capable of holding a charge for at least 3 hours.

Wireless internet capability

Case or sleeve for protecting the laptop when it is inside a backpack or bag to increase the lifespan of the computer
Students will bring their laptop each day to work on classroom activities online. Students are expected to take the laptop home each evening. A small number of school district provided laptops will be available for use during class time. If a family is not able to provide their own laptop, please contact your teacher to discuss alternative options.
If you have any questions or concerns, or you do not want your child participating in this program, please feel free to contact your teacher to discuss your concerns. 
FAQ's - Bring Your Own Device
1) What are the benefits of having a 1:1 ratio of laptops to students in the classroom?
A laptop in the classroom instantly provides access to a world of information and tools and can be used anytime.

Our goal is not simply use technology as a substitution for traditional learning activities, but rather it is to use technology to redefine what can be done in the classroom by leveraging technology to access information; increase communication, creativity and collaboration; and become creators of content.  

At its core, a value that the BYOL program instills is Enlightened Digital Citizenship. A school setting is the ideal place to provide guidance and teaching around becoming a productive citizen in this massive, worldwide community. This program will teach students how to use the technology that is a part of their everyday world in a positive way.
2) This is an extra cost to parents.  Is it mandatory?
It is an optional program.

Cost is a primary concern. To address this each classroom will have at least 10 laptops when students are not able to bring their own. The only 'requirement' is a form for students and parents to sign agreeing to school expectations. 

Parents have found many creative ways of sourcing out less expensive options, seeking out clear out deals from other retailers to achieve unheard of prices to help support this program. Also, Staples offers price matching, so parents can still get the best price and the warranty options Staples offers. 

The drawback to not having their own laptop is that they will not be able to take the laptops home or use it without permission at school. There are other options outside of school, though, as most students have access to a computer at home, or could use one at the public library. Many school assignments are web based so they can be accessed anywhere, with any device that has internet access. 

In the end, please rest assured that all CDG students are part of the program and will have access to laptops in the classroom. 
3) What about the rising cost of school supplies?  Are we now required to supply a laptop and "regular" school supplies?
We recommend that families go light on the "regular school supplies" if needed.  The basics such as binders, paper, pens and pencils will still be needed, but we are definitely working to cut down on the extras.
4) I'm worried that my student may lose the computer or it will be stolen.
We spend a lot of time reinforcing how to care for computers with the students.

While this places an incredible amount of trust in our kids, in our experience, kids live up to these expectations with technology and things that they value.

In general, we have not experienced theft of personal computers and damage to computers is minimal and generally due to accidents.
5) What if something goes wrong with the computer?
Please see the purchasing and warranty options below for Staples.

Staples is not the only place to purchase laptops, although the provide convenient service in case of issues.
6) Will the school district be invasive with it's use of data from the laptops?
The school district and CDG provide wireless access to the internet, they are not actively monitoring student laptops. 

Student laptops are subject the district Student Code of Conduct and we reserve "the right to access any files on the device in case of misuse, suspicion of misuse, or other activities in violation of the district's Student Code of Conduct."

Please see 

AP-334 - Online Communications and Digital Learning

 for full details on expectations around student laptops, online communications and digital learning. 
Laptop Options
If you do not currently have a laptop, there are economical new, as well as used, options available. There is no 'best' laptop, the 'best' laptop is one that fits the budget, works for the family and meets the minimum requirements: 
8 GB RAM

256 GB SSD Memory (128 GB SSD would work as well) 

An Intel N200 or i3 processor or AMD equivalent
With the move to using Microsoft programs, a Chromebook will still work, but will require one additional step for your child to ensure that they can log in to their school provided Microsoft account.  For your convenience, the school district has also worked with Staples to provide three additional laptop options. 
Purchasing from Staples is not the only option, it is that they provide local service, replacement warranties, financing options.   
Staples Laptop Options
ASUS Vivobook 15 15.6" Intel Core Laptop - i3-1115G4 - 512GB SSD - 8GB DDR4 - Windows 11 - Slate Grey | staples.ca
SKU 3057860  ASUS X515EA 15.6"/i3/8/512 SSD - $679.99
HP 15" Windows Laptop - Intel i5-1335U - 512 GB SSD - 8 GB RAM - Windows 11 Home | staples.ca
SKU 3060573  HP 15-FD0017CA 15/i5/8/512 - $849.99
HP 15.6" Laptop - AMD Ryzen 5 7520U - 1 TB SSD - 16 GB RAM - Windows 11 Home | staples.ca
SKU 3056526  HP 15-FC0017CA 15/R5/16/1TB - $899.99