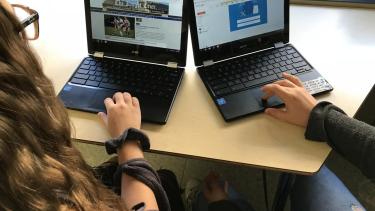 BYOL Program
Bring Your Own Laptop to CDG
We are proud that Chief Dan George Middle offers a school wide Bring Your Own Laptop (BYOL) program 
This program provides students the opportunity, at the teacher's discretion, and with parent support, to use personal laptop computers under supervision in the classroom for learning. We believe that the use of digital technologies to improve student learning is a key part in being an innovative school that prepares students for lifelong learning.
Thank you for working with us to support the Bring Your Own Laptop program.
Bring Your Own Laptop Benefits
improved access to online resources and digital tools
enhanced opportunities to learn appropriate digital communication and citizenship skills
additional opportunities to create digital projects
access to assistive technology
ability to collaborate during class time on digital presentations and documents
Laptop Information and Requirements
In order to participate in this program students are allowed to bring a Chromebook (or basic laptop) to school that meets the following minimum requirements:
Chromebook laptop is the preferred option
A charging power cord and battery that is capable of holding a charge for at least 3 hours.
Wireless internet capability
Case or sleeve for protecting the laptop when it is inside a backpack or bag to increase the lifespan of the computer
Students will bring their laptop each day to work on classroom activities online. Students are expected to take the laptop home each evening for security purposes and also to make the laptop available to other family members (if that is the wish of the family). A number of school district provided chromebooks will also be available for use during class time.
FAQ's - Bring Your Own Laptop
1) Why Chromebooks?
Chromebooks are one of the cheapest and most efficient ways to access technology in the classroom while bringing most of the benefits of a traditional laptop.  They rely on cloud based applications that can be accessed anytime and on any device, all at a lower cost than a traditional PC laptop. They also require minimal troubleshooting.
2) What are the benefits of having a 1:1 ratio of laptops to students in the classroom?
A laptop in the classroom instantly provides access to a world of information and tools and can be used anytime.
Our goal is not simply use technology as a substitution for traditional learning activities, but rather it is to use technology to redefine what can be done in the classroom by leveraging technology to access information; increase communication, creativity and collaboration; and become creators of content.  
At its core, a value that the BYOL program instills is Enlightened Digital Citizenship. While our children are considered "digital natives" in that they have been exposed to technology from birth, they still need guidance in becoming a productive citizen in this massive, worldwide community.  This program will teach students how to use the technology that is a part of their everyday world in a positive way.
3) There are already chromebooks in schools.  Why is a BYOL program more beneficial?
By allowing a BYOL program, we increase the likelihood of having 1:1 access to a chromebook for all students.  This allows for a more personalized experience, and "in the moment learning". 
Having a personal chromebook allows for a simple transition between learning online at home and at school.
4) This is an extra cost to parents.  Is it mandatory?
Agreed! This is a transition time. We are pushing the boundaries of traditional educational learning. We finally have the infrastructure to support a program like this and we are excited to experiment and see where this new educational tool can take our students learning. If we have more students providing their own laptops, then we can have this opportunity in even more classrooms.
Therefore, it is an optional program. If parents can not provide a laptop, the school does have a number of laptops in each classroom that will be available for use each day.
5) Does this create  a 'have and have not' distinction among the children
We have made the conscious choice to include ALL students.
All students will have access to laptops, supplied from home or supplied by the school. Students using school supplied laptops receive a Dell Chromebook, the same as the ones sold at Staples. The only difference is students using a school laptop cannot take it home each night and those laptops may not be able to leave the classroom.
6) I'm worried that my student may lose the computer.
Agreed. We need to put an incredible amount of trust in our kids. In our experience, kids live up to these expectations with technology and things that they value.
We have not experienced any theft of personal computers. Damage to computers is minimal and generally due to accidents.
We spend a lot of time reinforcing how to care for computers with the students.
7) What if something goes wrong with the computer?
Some stores, such as Staples, offer the $99 warranty program that offers a "you break it, we replace it" 1-time replacement warranty. 
8) Will the school district be invasive with it's use of data from the laptops?
The intent of this is that students and parents understand that while at school, students are using the internet access supplied by the district; we treat the device as a "school device" in order to reinforce that school rules and expectations regarding behaviour always apply.
Our process is one that works in tandem with parental expectations. If a device is confiscated, parents are contacted and we discuss how they would like to proceed to help make this a learning opportunity.
9) Which computer options are the best?
Specifications  - any laptop that can connect to the internet and hold a charge for approximately 3 hours.
With the use of Google Suite for Education, there are no programs required and most processing is done online.
The devices do not need more than a basic Chromebook would have (16GB; 2GB RAM)
We encourage parents to search for the BEST deals and we are in constant communication with Staples as we see ads that beat their pricing. Staples offers price matching AND the warranty/accessory discounts.
Parents have bought used chromebooks and/or clearout deals from other retailers to achieve unheard of prices to help support this program.